Who We Are?
Supram Industries was established in the year 1994 by Narayana Prasanna in Bangalore, India. We are a professionally managed company engaged in producing B2B products such as sub-assemblies and electronic embedded products for different applications in the society and industry. The manufacturing products range from Precision turned and machined components, Slider assemblies for automobile seats, Stamped and pressed metal components, Fabrication, and allied engineering products.
With the present trend of Information and Communication across the globe, Supram Industries believes in innovating new products that deliver value to all our stakeholders. As a result, Supram is continuously upgrading itself with Process improvements, Product improvements and Innovative New Product Development process.
Supram is one of the most reputed SME in the field of manufacturing CNC machined components, pressed sheet metal components, slider assemblies for automobile seats, sub-assemblies, jigs-fixtures and allied engineering products. We are well equipped with machineries, design software and measuring instruments of all types.
We guarantee prompt services and international standard quality to meet our customers' expectations in terms of quality, cost, and timely supply. We endeavour to be responsive to the needs of our clients with improved process and Production facilities. Business integrity is of paramount importance in our company ethos, while dealing with suppliers and clients. We have adopted an open management style to foster an environment of enthusiasm and build team spirit amongst ourselves.
Our proud recent additions include a new IoT equipped product, RiGAS – India's first LPG Management System embedded with a gas leak alert system, allowing users to connect to four smartphone devices simultaneously to monitor usage and track gas leakage to prevent LPG fire accidents for households amongst other host of benefits. This promotes preventive care at the grass root level, opening up a new product category. RiGas is developed with a vision to equip every household in India to adopt preventive safety measures when it comes to LPG.
RiMASS is our electronic weighing scale, which is available in various sizes and capacities which caters to diverse market needs.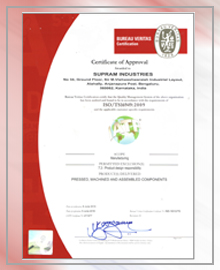 Our Certifications
IATF:16949-2016 ISO: 9001-2015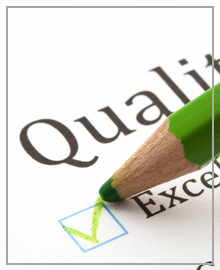 Our Quality
We, at Supram Industries, aim to achieve maximum customer satisfaction by supplying products, which deliver the promise to exceed the customer's quality expectations.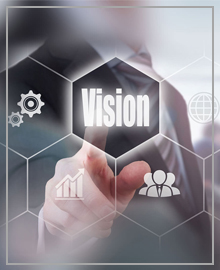 Vision & Mission
'To empower the society and industry with quality products and services'
'We provide high-end manufacturing solutions driven by new-age technology and continuous improvement to deliver value to our stakeholders'